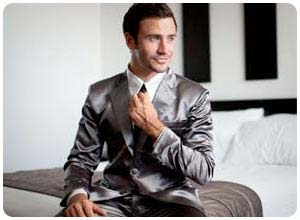 We'll start of the blog by first outlining some of the coolest gift ideas we've seen for men so far! There are some pretty crazy (in a good way) ideas out there, so just keep an open mind and read on. Gift giving is not an easy task, especially for men. Buying the fallback pair of cufflinks will always be received with a strange smile, before he asks for the receipt and returns it anyway. So here are some wild ideas to get your imagination going.
Suit Pajamas. Remember that show How I Met Your Mother? This would be a unique gift idea, that almost every guy would appreciate if they have seen the show. What better fashion tips can you possibly get from the biggest 'bro' around?
Playing Cards (The Designer Kinds). There are many unique decks of cards out there on the internet, and you should look at buying a man one of these sets, especially if he is a frequent poker player. They make good collectables too, so you can always buy more than one.
Whiskey. Ahh. The perennial favourite. It's not hard to pick a good whiskey and almost every guy would appreciate a bottle lying around the house. My favourite? The Yamazaki range. Amazingly smooth Japanese whiskey.
Collar Stay Punches. Who knew something like could be so handy? Collar stays are a very significant (yet something many guys don't think about) part of men's wardrobes.
Uniquely Shaped Ice Cube Makers. Great for novelty and a good laugh. Check out some of these cool ones over here.
Pocket Torches. Great if your man smokes, or loves the occasional cigar. You can find some really crazy looking ones, including one that looks like a flamethrower.
Tie Racks. Most guys don't have one. It's great if he wears a suit all the time. Instead of risking a tie that he might not like, just buy him something to organise the ties. Genius.
Cold Growler. It's like the opposite of a thermos. Keeps beers cool for up to 24 hours.
Leather Business Card Cases. These are fantastic if the man is a businessman of some sort.
Things to NEVER BUY:
Anything Tech Related. Seriously. You have no idea what anybody else wants, so stay away from headphones, laptops, phones etc. unless he explicitly has been hinting for them.
Clothes. Unless you're really, really close and know his/her style, there's a good chance whatever you buy him ends up unused in the closet.